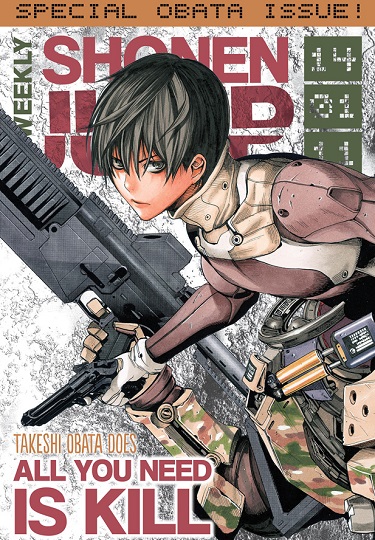 I just finished reading this manga.
And I wanna share to all of you... yes you... my review of this sciece millitary based manga.
According to wikipedia
All You Need Is Kill (

オール・ユー・ニード・イズ・キル

Ōru Yū Nīdo Izu Kiru) is a

Japanese military science fiction light novel by Hiroshi Sakurazaka with illustrations by Yoshitoshi ABe. The novel was Sakurazaka's breakthrough science-fiction novel, earning wide praise from fellow novelists including Yasutaka Tsutsui and Chōhei Kanbayashi and was entered in contention for the Seiun Awards, Japan's counterpart to the Nebula Award.
 Takeshi Obata, the creator of Death Note, illustrated a manga adaptation along with Ryosuke Takeuchi as the story board.