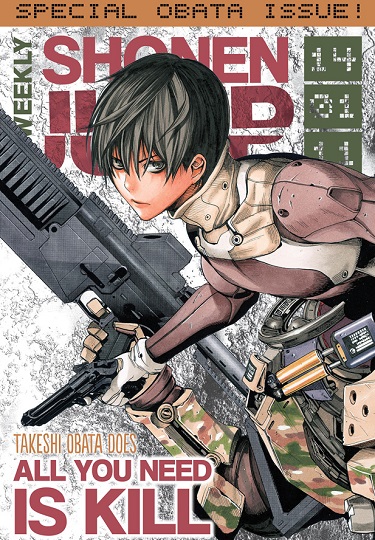 I just finished reading this manga.
And I wanna share to all of you... yes you... my review of this sciece millitary based manga.
According to wikipedia
All You Need Is Kill (

オール・ユー・ニード・イズ・キル

Ōru Yū Nīdo Izu Kiru) is a

Japanese military science fiction light novel by Hiroshi Sakurazaka with illustrations by Yoshitoshi ABe. The novel was Sakurazaka's breakthrough science-fiction novel, earning wide praise from fellow novelists including Yasutaka Tsutsui and Chōhei Kanbayashi and was entered in contention for the Seiun Awards, Japan's counterpart to the Nebula Award.
Takeshi Obata, the creator of Death Note, illustrated a manga adaptation along with Ryosuke Takeuchi as the story board.
The manga tells about an UDF rookie soldier, Keiji Kiriya who experienced hundreds loops in time after he was killed in his first battle against the Alien, Mimics.The time loops happens every time he got KIA (killed in Action) with the Mimics, and he was forced back to 30 hours priors his death.
Because of that, Keiji grows from a rookie soldier to an experienced soldier. He even write in the back of his palm, the number of loops that he experienced.
But there's no fun if we had a tough hero without a tough heroine, there's also Rita Vrataski, an US UDF soldier. She has a nickname Valkyrie or some other called her The Bitch, because of her winning streak against Mimics. At the end of chapter 7 (if I'm not mistaken) Rita said to Keiji "with this, how many loops you have encounter?" (more or less like that).
So how is Keiji and Rita escapes their never ending time loops?
With the manga still ongoing, I guess there's still more to the story.
Overall the story is good, well, somehow the plot is remind me of a novel that I once read, it called Replay. The plot is same, about time loop, but the difference is, that this manga is more military and action while Replay is more about drama.
Well the thing that keeps bouncing my head is that, Keiji is so similar to Light on Death Note (Duh, of course, they're from the same manga-ka).
It's a typical Shounen Manga with action and so little romance, well until Chapter 13 there's just a little bit of hint romance, but there's also few fan service for you boys out there.
So if you expecting a cheesy nice little romantic scene between Keiji and Rita, you won't find it, well at least, not yet.
I rated this manga as T because of some blood splatting, body piercing even though not in the way that gonna make me disgust, but to me is not suitable for kids under 13 years old.
As an end note, I give you a trailer of adaptation from this light novel, a movie starred by Tom Cruise called The Edge of Tomorrow, but don't expect that this movie and manga are the same. The main plot probably the same (I haven't watched it yet) but the story itself already going through some adaptation to fit the Tom Cruise age and feature.
Anyway, they said, it's worth watching.
Review Manga : All You Need in Kill
Reviewed by
Ayumu Handayani
on
12:24 AM
Rating: